Indiana | Illinois | Michigan



Michigan | 616-269 Area Code Split

2002: A New Area Code for Southwestern Lower Michigan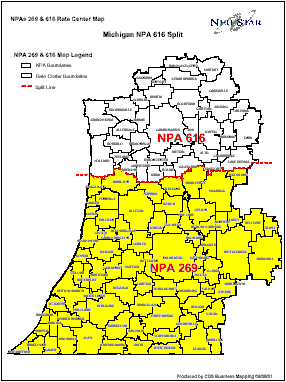 Effective July 13th, 2002, Southwestern Lower Michigan can be reached using the 269 Area Code. The former area code, 616, will be available for permissive use until February 15th, 2003. (Wireless phones in 269 will be able to be dialed with the old codes until February 15th, 2004.)

This is the third split of 616. The first occurred when Northern Michigan was given its own area code of 906 in January of 1961. Then on June 5th, 1999 the northern portion of 616 (north of Grand Rapids) was given it's own area code of 231 (permissive ending on October 2nd, 1999).

The remaining 616 will now serve Grand Rapids and exchanges near Grand Rapids.
---
My Comments
Is it redundant to say that the industry recommended an overlay? Michigan's PUC decided on a split due to the large geographic area involved. I agree. In addition the carriers in Michigan went back and modified the plan to allow for 10d dialing between area codes. This mantains the 'toll alerting' common in Michigan. They also agreed to allow 11d dialing to any number. I support both policies.

One final action by the PUC was to allow wireless carriers an additional year to reprogram phones. I do not agree with that decision (but can live with it). I believe it adds to customer confusion to have SOME numbers become mandatory later than others. I understand that it is helpful to not create numbers that conflict with unchanged phones, but the extra delay leads to procrastination.

As always, regardless of the end of permissive, I suggest that the new numbers be learned and used at the beginning of permissive.